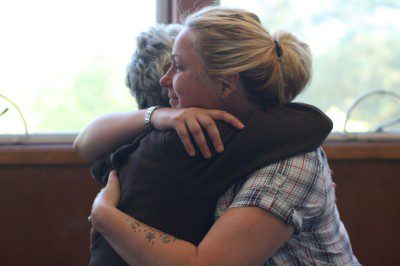 Saturday, June 3, 2017
10 a.m. to 3 p.m.
Cost: FREE
(continental breakfast & lunch served)
Women veterans face unique challenges when returning from combat, often carrying stress, grief, numbness and anxiety in their bodies and spirits.
This one-day of retreat is an opportunity for women veterans of all ages, ranks, and levels of authority to come together in a supportive environment with others who have a shared experience: to tend the soul-wounds of war, rekindle hope and compassion, and to reconnect to the wisdom of your own heart.
The day includes: 
Time for quiet reflection and sharing with others who have lived your story
Learning strategies for managing stress and anxiety
Personal time for art-work, journaling or walking
Mindfulness and tension release exercises
Healthy and nourishing meals
Past participants said:
"I learned how empowering it is to be with other women vets."  
"Today was a day of peace, friendship, sharing stories of life's trials and tribulations. It was a day of  healing and discovering the uniqueness in each of us."
Register Online Here
Email at info@cranaleith.org or call 215-934-6206.