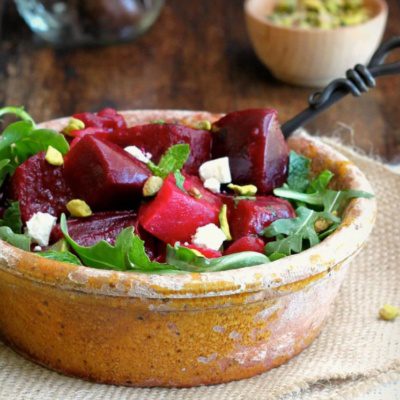 Presenter: Leslie Porreca, RSM 
Tuesday, October 24, 2017, 5-8 p.m.
Cost: $60 (includes dinner)
Register online here or call 215-934-6206
It is amazing that one simple vegetable can tell a story of the infinite possibilities earth offers to our senses and our health every day. Learn about growing beets and winter greens. Understand the nutrition they hold and the variety of ways to prepare them. Come "root" your spirit in the wisdom of the earth!
Winter Greens and Baby Beets with Balsamic Vinaigrette
This recipe is brimming with baby kale, spinach, radicchio, and chard, sprinkled with nuts and seeds, and sweetened with roasted beets. A rich and potent vinaigrette naps the leaves, taming and binding the bitter, nutty, earthy flavors. Mix and match your favorite greens from what's available in your garden or local  farmers market. Be sure to include a combination of bitter and mild flavors as well as a variety of color and texture.
Vinaigrette:
1/4 cup aged balsamic vinegar
1 small garlic clove, minced
1 teaspoon Dijon mustard
1/2 teaspoon salt
1/4 teaspoon freshly ground black pepper
1/2 cup extra-virgin olive oil
Salad:
1/2 pound baby or small beets, roasted, peeled, cooled
8 cups assorted greens
1/4 cup crumbled goat cheese or feta (optional)
2 tablespoons chopped unsalted pistachios, coarsely chopped
Recipe from tastefoodblog.com
Leslie Porreca, RSM, MSS, LCSW, is head of Cranaleith's earth keeping, sustainability and permaculture activities, including management of the garden and kitchen. She is a former co-director at Mercy Farm at Lumen Christi, Vermont. Leslie is assisted by a committee of volunteer advisors and a dedicated cadre of program volunteers.