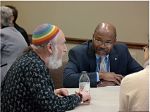 November 7-9, 2017
Faculty: Marisa Guerin, PhD
Cost:  $400 tuition fee, including all meals at Cranaleith; $100 for two nights' lodging at Cranaleith, subject to limited availability
Download brochure and application
This was an excellent seminar. I feel like you designed it specifically to address the challenges that I personally face in my work. – Social Service Leader
This comprehensive program offers experienced nonprofit professionals the opportunity to increase their capacity for effective leadership through applied theoretical studies, executive skills training, and reflective practices in an interactive learning environment.  Leaders will return home equipped with the knowledge, skills, and inspiration to manage in fast-paced, resource-constrained, mission-driven environments that characterize today's nonprofit sector.
Is this the seminar for you?
This seminar is uniquely designed leaders in nonprofit organizations, including members of the executive team, board, and senior staff.
Experienced executives from all faith traditions and welcome.
The seminar format emphasizes group exploration of advanced topics through study, discussion, reflection, and case consultations.
Through this innovative curriculum, participants will:
Develop a greater mastery of leadership skills and increase their confidence in applying these effectively in the nonprofit workplace
Gain an awareness of emerging trends in the nonprofit sector, including social entrepreneurship, earned income ventures, and the evolving legal landscape
Master reflective practices that enhance communications, foster understanding, and lead to results
Develop skills to regain balance, remaining centered in the face of complexity and chaos
Enhance their network through an expanded leadership cohort of peers

Topics include:
Understanding the system psychodynamics of roles, boundaries and authority in nonprofit enterprises
Methods and processes for strategic planning
Leading and managing in conditions of constant change
Effective leadership under pressure from multiple constituencies: Board, staff, donors, clients, and other stakeholders
The notion of containment and its relationship to anxiety-producing work
Strategic planning as realistic action vs. denial or periodic organizational ritual
Recognizing and reducing organizational dysfunction
Working through rational, political, emotional, behavioral dimensions of change

Benefits

As result of their participation, graduates will be better able to:
Forge high-performing teams driven to achieve the mission of the organization
Foster within their organizations the proven practices of high impact nonprofits
Adopt entrepreneurial competencies of opportunity orientation, innovation, resourcefulness, and adaptive persistence
Lead strategic change within their organizations
Work with other leaders across organizations, sectors, and stakeholder groups to capitalize on opportunities for synergy in addressing critical social issues

About Cranaleith Master Seminars
Since 2012, over 100 leaders and consultants for nonprofit, educational, and religious organizations from the US and Europe have attended Cranaleith Master Seminars for in-depth exploration of the challenging dynamics they face in their work roles. Using an active and collaborative format for learning, these programs provide experienced leaders with an invaluable resource: protected time, stimulating content, and a supportive group of peers for thinking, planning, and restoration of their vision and energies. The seminar format is highly sensitive to the nature of the participant group, therefore persons interested in participating must submit an application for enrollment.

About the Presenter: Marisa Guerin, PhD
Why come to Cranaleith?

Cranaleith – Gaelic for "Sanctuary of Trees" – has served thousands of guests over the past 18 years through its non-denominational program offerings and spirit-rekindling environment of hospitality, respect and trust. Situated on a beautiful 10-acre property, visitors can find time for solitude, relaxation and reflection. Guests enjoy comfortable accommodations and healthy meals sourced from our organic gardens and chicken coop. Time can be spent enjoying nature, meditating by our lake or  walking the labyrinth. Come enjoy the beauty and simplicity of Cranaleith.