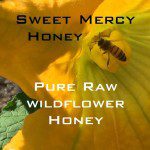 Over the past several years, Cranaleith has maintained and cared for honey bee hives on its property. Beginners and Intermediate classes are offered and volunteers assist in beekeeping. Our honey is 100% raw and is as fresh as it comes, straight from the hive. Our process reflects our deep respect and care for the environment.
Available in jars: 2 oz, 6 oz and 1lb
Muth – $25.00 plus tax; 1 pound – $19.00 plus tax; 6oz – $12.00 plus tax; 2oz – $7.00 plus tax
To Order: Call 215-934-6206. Supplies are limited.
Sweet Mercy!
Soothing, patient, mild, and kind
Softens the high and lifts the fallen mind
Knows with just rein, and even hand to guide
Between false fear, and arbitrary pride
Not easily provoked, and soon forgives
Feels love for all, and by a look relieves
Soft peace she brings where e'er she arrives
Removes our anguish and reforms our lives
Lays the rough paths of peevish nature even
And opens in each heart a little heaven. ~Catherine McAuley
Sponsor a Hive
Become an integral part of addressing the declining bee population by adopting a honeybee colony at Cranaleith. Your contribution will go towards offsetting the cost of maintaining and sustaining the colony and the environment it supports. Donation: $100/year.
Includes: Decorating your hive (if you choose); naming our queen, photo updates of your hive's progress throughout the honey season, a guided tour of the apiary and inner workings of the hive, a one pound jar of honey at the end of the season, and of course, our gratitude.
Call: 215-934-6206 or email vlorraine@cranaleith.org