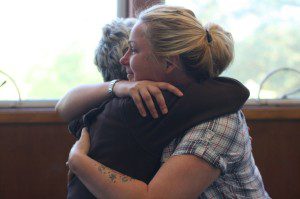 To register call 215-934-6206 or register online below. 
The "Coming Home, Becoming Whole" program offers retreat opportunities for returning and those that serve vets to address the spiritual dimension of healing from the trauma of war, to unmask the wound and contagion of violence in our society, and to reveal streams of transforming grace through the experience of Veterans.
The retreats at Cranaleith provide opportunities to come together in a supportive environment to tend the soul-wounds of war, to rekindle hope and compassion, and to reconnect to the wisdom of your heart.
Days of Reflection & Wellness for Female Veterans

Saturday, June 30, 2018, 10 a.m. – 3 p.m.
Cost: FREE (includes lunch)
Women Veterans face unique challenges when returning from combat, often carrying stress, grief, numbness and anxiety in their spirits and in their bodies. This day of reflection, healing and wellness is an opportunity to come together in a supportive environment with others who have shared your experience: to tend the soul-wounds of war, to rekindle hope and compassion, and to reconnect to the wisdom of your own heart. Instructor: Sr. Maria DiBello, RSM
Join us for the day and you will find:
A safe and serene place of hospitality
An opportunity for quiet reflection and sharing with others who have lived your story
The support of skilled and gentle facilitators
The availability of holistic modes of healing
Past participants said:
"I learned how empowering it is to be with other women vets."
"Today was a day of peace, friendship, sharing stories of life's trials and tribulations. It was a day of  healing and discovering the uniqueness in each of us."