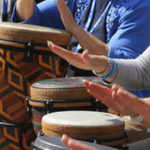 Instructor: Patricia Hatfield
Cost: $25
Register online here or call 215-934-6206
Come, celebrate the summer and God's love for the world with a time of prayer and reflection. Drum therapy is an ancient approach that uses rhythm to promote healing and self-expression. From the spiritual leaders of Mongolia to the Minianka healers of West Africa, therapeutic rhythm techniques have been used for thousands of years to create and maintain physical, mental, and spiritual health.
A labyrinth has a single, purposeful path that winds from the edge into the center. The same path leads back out to the edge again. Thus, it resembles the indirect path of our lives, which leads us sometimes into the center of the human condition, sometimes into the heart and mind of God, sometimes into the very core of illness or pain. Today, labyrinths have been rediscovered and are being built and "walked" as a tool of spiritual growth and emotional well-being.