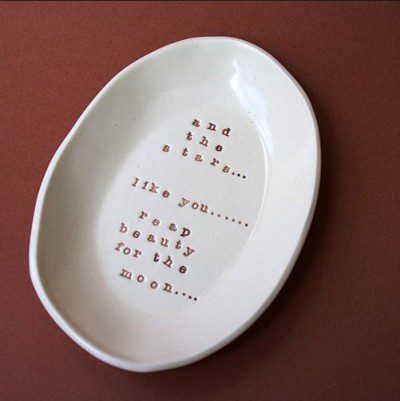 Thursday, August 9, 2018, 10 a.m. to 3 p.m. (includes lunch)
Instructor: Julie Kring
Cost:  $45
Click to Register
Or call us at 215-934-6206
We'll draw on Mary Oliver's poetry as inspiration for our own creativity with clay. Influenced by both Whitman and Thoreau, Oliver is known for her clear and poignant observances of the natural world. No experience necessary…just an adventurous and reverent spirit.
Julie Kring
Julie's work has been in a number of group shows in the Philadelphia area, including The Sketch Club, The Abington Art Center, The Old City Jewish Arts Center and The Cheltenham Center for the Arts. She is a member of the American Color Print Society and the Cheltenham Printmakers Guild and has won awards from both in recent shows.
Having spent 25 years as an art educator, Julie is currently exploring her passion for painting and printmaking and the way they inform one another in her work. The painterly style found in her monotypes of landscapes and botanical works demonstrates the interplay of these two media. She also enjoys experimenting with the use of pattern, texture, and collage in linocuts, giving particular attention to the negative spaces formed by the graceful lines of the natural world.
She developed an art education program for K – 12 students at The CamdenForward School and UrbanPromise Academy, including a focus on artists of African American heritage.
Julie currently offers day retreats with friend and fellow artist, Carey Davis, on  "The Art of Devotion" and teaches as an artist in residence at Cornerstone Christian Academy and The DePaul Catholic School.